Vision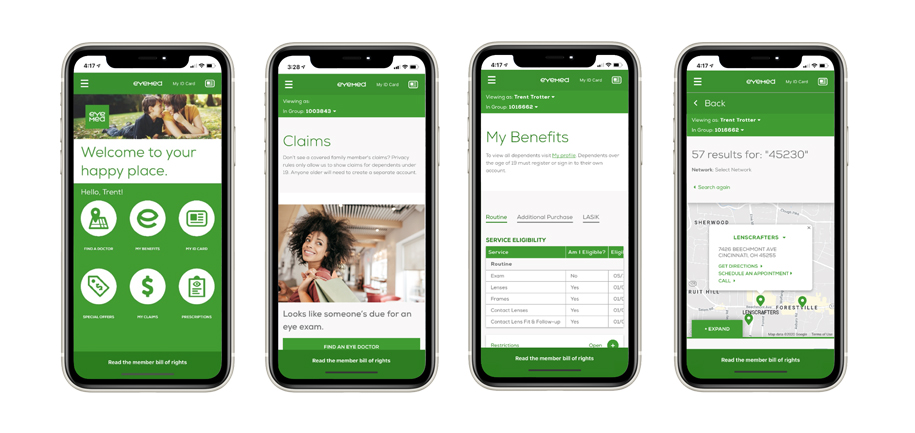 To keep up with the latest features, be sure to download the newest version of the EyeMed App as older versions will no longer be supported. If you'ver already created an account, there's no need to re-register—your existing login info is all you need. Available in the App Store and Google Play Store.
EyeMed COVID-19 Member FAQ Update
Penn State's vision plan is administered by EyeMed. See EyeMed's Summary of Benefits for more details. For questions, contact EyeMed at 866-939-3633.
Features of EyeMed vision coverage:
Increased allowance for contact lenses and frames to $130 (previous provider: $90). Please note that the benefit is one-time use during the two calendar year period; the entire $130 benefit must be used in one claim otherwise the remaining balance is forfeited.
ANY frame covered at 100% at Target Optical (Freedom Pass; Offer Code 755288)
Participating providers include; LensCrafters, Pearle Vision, and many independent providers
When searching online for an in-network provider, select the INSIGHT network
40% discount on additional glasses
Online purchasing at Glasses.com
40% discount on hearing exams
Access to claims and benefits are available via the EyeMed mobile app and online access
Please note that enrolled members do not need an ID card to receive services. In-network providers are able to look enrolled members up in the EyeMed system with name and date of birth. In an effort to "Go Green," EyeMed will only send an initial ID card. After the initial ID card, members can use the EyeMed portal to obtain, download, and/or print a copy of their ID card. Replacement ID cards will no longer be sent.
ELIGIBILITY
Full-time faculty, staff, and technical service members are eligible to enroll in the Penn State Vision Plan. For information about spouse and dependent children eligibility, please see Dependent Eligibility.
Part-time faculty, staff, and technical service members are not eligible to participate in the Penn State Vision Plan.
Postdoctoral appointees: As per postdoctoral eligibility, the per-pay contribution rates follow the same premium schedule as for faculty and staff. For additional information regarding the benefits available to postdoctoral appointees, please contact or visit the Office of Postdoctoral Affairs.
If you or your dependents are no longer eligible for the vision plan, information will be mailed from Lifetime Benefit Solutions regarding continuing coverage under COBRA. Additional information regarding COBRA benefits can be found on our COBRA website.
Vision Premiums
Vision Premiums

| Coverage | Bi-Weekly | Monthly |
| --- | --- | --- |
| Employee | $0.48 | $1.05 |
| Employee + 1 or more | $1.60 | $3.47 |
Additionally, brand new hires to the University will have benefit elections pro-rated based upon their hire date. If you are a current employee experiencing a job change, or an IRS qualifying life event that causes your existing coverage to change in the middle of a pay period, the regular per pay benefit deductions will occur for the full pay period in which benefit elections or changes were made.
Payroll contributions are deducted based on the year of payroll issuance. For example, the first January bi-weekly payroll will be for hours worked in the prior year, but the deductions will be taken at the new rate since the paycheck is processed in the new year.
Target Optical Freedom Pass Benefits
Now you can get the frames to match — with a special offer from Target Optical®. For $0 out-of-pocket expense get any available frame, any brand — no matter the original retail price point. You're free to choose any frame in the store at no additional cost to you. For example, if you purchase a pair of frames that retails for $180, your out-of-pocket cost is still $0 — even if you have a $130 frame allowance. Plus, you get extra savings on lenses through your EyeMed vision benefits to complete your look. Learn more.
Amplifon Hearing Discounts
EyeMed offers discounts on hearing exams and hearing aid products. To learn more, contact an Amplifon Patient Care Advocate (PCA) by calling: 1-877-203-0675 or visiting www.amplifonusa.com/eyemed
*If you don't share that you have Aetna and decide to purchase your hearing aids using only the discounted pricing, you can ALWAYS file for a reimbursement through Aetna. This way, you still get Amplifon's discounted pricing plus their funded benefit.
The Patient Care Advocate (aka PCA) will ask for the member's zip code in order to locate an Amplifon provider nearest to him/her, answer questions and assist the patient with scheduling the hearing exam.
In addition to the Amplifon discounted pricing, members receive a member package, which includes:
A 60-day risk free trial period
A lowest price guarantee
No interest financing for 12 months for those who qualify
A 3-year loss and damage warranty. Simply pay a small deductible if you lose or damage your hearing aids (typically between $150-$250)
The patient receives 2 years of batteries at no cost. This equates to 80 cells per hearing aid per year
1 year of free follow up care with one's provider