New WorkLion Enhancements Aim to Improve Inquiry Management
Wednesday, April 10, 2019
On Thursday, April 18, 2019, Penn State Human Resources (HR) will begin rolling out 5 new features related to the inquiries' sections of WorkLion.
The enhancements are designed to improve the inquiry management experience within WorkLion, focusing on managers and their proxies, who frequently use the system.
First Enhancement
The first enhancement is the new "Subject (key word/tag)" field when submitting an inquiry. This field will allow the submitter to add a word or phrase that is meaningful to them (e.g. "Tutor hires", "End-of-semester separations", or "Turf Grass grant"). Submitters can then sort this column in their "My Inquiries" section to more easily identify a submitted inquiry. This field will also be included as part of both the general inquiry and om the Manager Forms. (See examples below.)
General Inquiry
Manager Form

Second Enhancement
The second enhancement users will notice is the "General Requests" tab in the "My Inquiries" section. This will allow non-managers to home in on information that is pertinent only to their general inquiries. For managers and their proxies, this will allow them to separate their general inquiries from their submitted manager forms. Managers and proxies can continue to separate their in-progress forms by using the "Manager Forms" tab.

Below, you'll see infomration specific to a general request

Third Enhancement
The third enhancement users will notice is a change to "Author" whenever a response is from Human Resources (HR). Responses from HR to an employee will now show as "Penn State HR." This will help differentiate an employee's comments from HR's.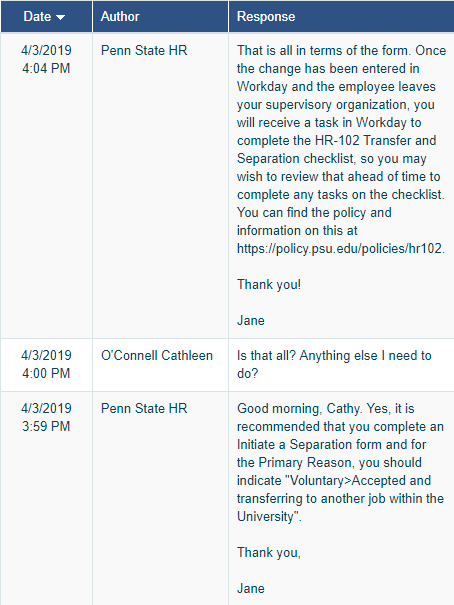 Fourth Enhancement
The fourth enhancement relates to visual consistency. More columns and consistent naming across all inquiry statuses; In Progress, Manager Forms, To Do's, and Closed, will allow for more sorting options and quicker identification of inquiries, as well as a consistent look and feel throughout the inquiry management process.

Fifth Enhancement
The last enhancement managers and their proxies will notice is a direct link to form instructions within each Manager Form. This will allow users to display the form's instructions in a new tab without navigating away from the form itself.

These 5 enhancements were the result of feedback provided during focus groups conducted between November 14 and December 5, 2018. The focus groups consisted of 60 individuals from approximately 30 work units. A common challenge expressed by the participants was difficulty in searching for inquiries they had been submitted, especially those who had a high volume of manager form submissions. While this was one of many suggestions provided by focus group participants, inquiry management was prioritized as having the biggest impact in user experience.
Further enhancements are planned, and HR will continue to gather feedback to improve the WorkLion experience.
The move to production will begin at 8 am on Thursday, April 18, and will be completed by 8 am on Friday, April 19. Due to the volume and visibility, some of these changes may be noticeable beginning on Thursday, April 18.
If you have any questions, contact HR Services at 814-865-1473.