Phase 2: Future State Design
Team Members
HR Transformation Phase 2 Project Team Leads ( July 2013 - Present)

| Name | HR Transformation Team | Title |
| --- | --- | --- |
| Susan Basso |  Phase 2 Project Sponsor | Vice President for Human Resources |
| Mary Beahm |  HR Org / Talent Team Lead | Assistant VP for Human Resources |
| Sue Cromwell |  Change Team Lead | Director of Center for Workplace Learning and Performance |
| Bob Fantaske |  Process Team Lead | Coordinator, CWLP Consulting Services |
| Ken Forstmeier |  Technology Team Co-Lead | Senior Director of Administrative Information Services (AIS) |
| Gerald (Jerry) Henry Jr. |  Policy Team Lead | HR Strategic Partner, College of Education & College of Arts and Architecture |
| Galen Lentz |  PMO Team Lead | Project Manager, IT |
| Steve Selfe |  Technology Team Co-Lead | Director of HRIT |
HR Transformation Phase 2 Process Redesign Team

| Name | Title |
| --- | --- |
| Bob Fantaske – team lead | Coordinator, OHR CWLP Consulting Services |
| Becky Barton | HR Asst., Intercollegiate Athletics |
| Rachele Brida | Manager, Recruitment & Compensation |
| Dawn Datt (Retired) | Director of Administrative Operations/HR, Arts & Architecture |
| Dorothy Guy | HR Manager, Penn State Harrisburg |
| Lisa Irvin | HR Generalist, ARL |
| Galen Lentz | Project Manager, IT |
| Bob Maney (SME) | Senior Director of Employee Relations |
| Robin Oswald, (SME) | Director of Employee Benefits |
| Ron Swope | Director of Finance & Business – Mont Alto |
| John Luchini | Director of Finance & Business - Dubois |
| Chris Fivek | Director of Operations, College of IST & College of Communications |
| Carol Eicher | HR Generalist, Auxillary & Business Services |
| Sue Cromwell - change lead | Director, Workplace Learning & Performance |
HR Transformation Phase 2 Policy Harmonization Team

| Name | Title |
| --- | --- |
| Jerry Henry – team lead | HR Strategic Partner, College of Education & College of Arts & Architecture |
| Kari Allatt | HR Specialist, Employee Relations |
| Katherine Allen (SME) | Assoc. General Counsel, Office of General Counsel |
| Dorothy Guy | HR Manager, Penn State Harrisburg |
| Rob Harris | HR Manager, Library Services |
| Bob Maney (SME) | Senior Director of Employee Relations |
| Helene Miksitz | Business Manager, Penn State Lehigh Valley |
| Sean Moeller | Director of Administrative Services, College of Liberal Arts |
| Allison Newhart | Assoc. General Counsel, Office of General Counsel |
| Robin Oswald, (SME) | Director of Employee Benefits |
| Diane Brown - change lead | Manager, CWLP Individual & Org. Development |
HR Transformation Phase 2 Organization Design Team

| Name | Title |
| --- | --- |
| Mary Beahm – team lead | Assistant VP for Human Resources |
| Holly Gumke | Director of Business Services, Penn State York |
| Amanda Jones | Manager, Human Resources, Eberly College of Science |
| Susan Rutan | Manager, Human Resources, Office of Physical Plant |
| Sue Cromwell - change lead | Director, Workplace Learning & Performance |
HR Transformation Phase 2 Talent Management Team

| Name | Title |
| --- | --- |
| Mary Beahm – team lead | Assistant VP for Human Resources |
| Rachele Brida | Manager, Recruitment & Compensation |
| Randy Geering | Director of Business & Operations, Penn State Behrend |
| Dovizia Long | Manager, Employee Relations |
| Allison Newhart (SME) | Assoc. General Counsel, Office of General Counsel |
| Sue Cromwell - change lead | Director, Workplace Learning & Performance |
HR Transformation Phase 2 Change Management Team

| Name | Title |
| --- | --- |
| Sue Cromwell – team lead | Director of Workplace Learning and Performance |
| Diane Brown | Manager, Individual & Org. Development,  CWLP |
| Rebecca Cianci | Director of Human Resources, Smeal College of Business |
HR Transformation Phase 2 Change Technology Team
Technology Core Team
Name
Title
Steve Selfe – team co-lead
Director of HRIT
Tara Campbell
Purchasing & Procurement Agent
Ken Forstmeier – team co-lead
Senior Director of Administrative Information Services (AIS)
Galen Lentz
Project Manager, IT
Rebecca Cianci - change lead
Director of Human Resources - Smeal College of Business
Technology Subject Matter Expert Sub-Teams
HR Admin/Transactions
Mary Beahm (lead)
Senior Director of Recruitment and Compensation
Giselle Buck
HR Aide – OHR
Ann Gray
Assoc. Director, Info Resources
Lisa Lingle
HR Generalist – Engineering
Karen Mogle
HR Generalist – Education
Sharon Price
HR Generalist – OHR
Beth Shimel
HR Asst. – OHR
Stephanie Snook
Programmer/Analyst – Budget Office
Mary Tuzynski
HR Asst. – Behrend Campus
Compensation
Jeremy Helsel (lead)
Manager of Compensation
Erika Armismendi
Director Human Resources, Outreach
Bob Hannegan
Manager of Human Resources, College of Engineering
Liz Sokora
HR Specialist – Compensation
Benefits
Robin Oswald (lead)
Director of Employee Benefits
Tiffany Bainey
HR Specialist, OPP
Melissa DeSandre
HR Asst. – Benefits
Amanda Gallo
HR Specialist, Housing and Food Services
Dovizia Long (ER SME as needed)
Manager, Employee Relations
Bob Maney (ER SME as needed)
Senior Director of Employee Relations
Amanda Witherite
Assistant  Manager, Benefits
Talent
Brynn Rousselin (lead)
Manager, Leadership & Management, CWLP
Stephanie Flanagan
Coordinator, Performance Managememt CWLP
Chris Lucas
Director, IT Training Services
Susan Morse
Manager Human Resource, ITS
Melissa Walker
Education Program Associate, OPP
Payroll
Ray Burke (lead)
Manager, Payroll
Tammy Crater
Manager, Accounting, Controller's Office
Heidi Elliott
Consultant Business Systems, OPP
Larry Friedken
Director, Payroll & Tax Services
Joe Jones
Director, Accounting Bursar's Office
Carrie Moore
Analysis & Planning Consultant, Financial Office
Rita Seyler
Senior Account, Controller's Office
Sheryl Smith
HR Asst. – OHR
Portal & Knowledge Base
Marcus Robinson
Director, IT Communications
Travis Fisher
Multimedia Specialist, HR
Case Management
John Williams
Director, Information Tech Services
Jill Musser
Manager, Benefit Programs & Services
Additional Subject Matter Experts
Sandy Balboni
IT Manager ITS, Identity Management
Gary Langsdale  
University Risk Officer, Office Of Corporate Controller
Kathy Kimball
Senior Director ITS, Security
Allision Newhart
Associate General Counsel, Office of the President
Work Underway
Phase 2 of the HR transformation initiative — which began in July 2013—builds on the groundwork created in Phase 1, as the teams delve further into the details of the future state of HR, including process design and policy harmonization, organization design and talent management processes, selection of the HR technology vendor and continued implementation and change planning. The nature of this work requires significant involvement from the HR community, as well as our business partners. The initiative grew from a small, core group of individuals in Phase 1, to over 70 individuals across the University assisting (so far) in Phase 2. We anticipate continuing to add to this number as the work continues to evolve. An Executive Steering Committee was created to help guide the work and continues to meet on a regular basis throughout the process.  In addition a group of key HR business partners has been engaged and involved to provide additional input and feedback
Shown below is the high level view of the initial Phase 2 HRT project team, including our HR Transformation partners from Towers Watson: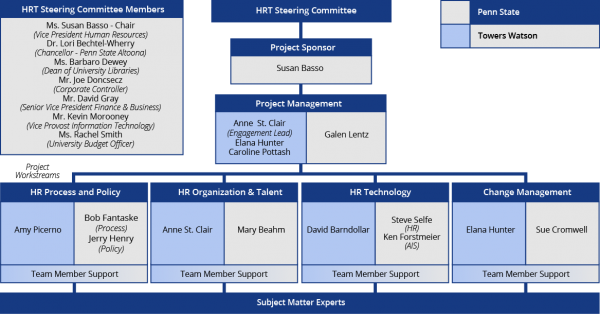 From the begining of the Phase 2 launch in early fall 2013, all of the project workstreams on-boarded team members, outlined charters, developed project plans, and began to implement the steps outlined in their plans, including:
Policy harmonization: created an inventory of all HR policies, created and received approval on a short list of policies to harmonize, all necessary steps to begin the current state assessment and future state design work.
Process redesign: finalized a list of 15 processes for redesign and the team is now working on current state collection and future state design on each group of processes.  The list of processes includes: appointment, background checks, access accounts/IDs, GSI, salary offers, merit pay, FMLA administration, disability, workers compensation, recruiting and advertising, offer letters, applicant tracking and terminations.
Organization design and talent management: developing initial staffing estimates and more detailed organization design straw model options, outlined a stakeholder engagement plan for seeking input and reactions, and developed the talent strategy guiding principles 
HR technology: the RFP was officially released on August 30th, evaluations happened in October/November time frame, with vendor demonstrations completed in February 2014. After a vigorous selection process, Workday, Inc. was selected and approved to be Penn State's Human Capital Management (HCM) vendor at the September 2014, Board of Trustee's meeting.  The Implementation partner selection process began in October 2014. 
Change management: ensured coordinated approaches for stakeholder outreach, continued to develop communications and engagement opportunities for various stakeholder groups including Academic and Non-Academic Leadership, HR Community,  HRT Steering Committee and key business partners.