Image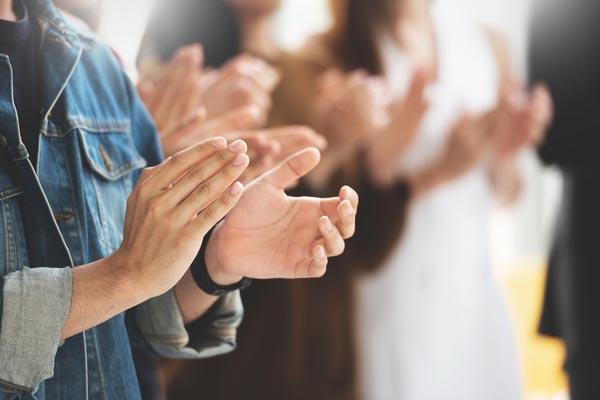 Staff Recognition
We Are
Nominate staff members for a "We Are!" shoutout in Penn State Today. Find the form and more information about nominations and eligibility here.
Positive Paws
Staff from all over the Commonwealth can request Positive Paws, branded sticky notes used to encouraged fellow staff members with a short note of thanks, appreciation, or encouragement. Read more about Positive Paws
Staff Recognition Awards
The USAC Staff Awards recognize University staff members who go above and beyond their normally assigned job responsibilities, perhaps by resolving a particularly difficult dilemma, being exceptionally creative, or being responsive to the needs of others regardless of status.
The University Staff Advisory Council has Staff Awards in the areas of morale, leadership, and excellence. These nominations are evaluated on the candidate's ability to encompass and embody the Penn State Values set forth by the President's Office. 
Award Types
Staff Excellence Award
Purpose
The purpose of this award is to recognize a Penn State University staff person who demonstrates integrity, respect, and excellence in all aspects of their position.
Criteria
Integrity - Behaves in an honest and ethical manner; demonstrates accountability; identifies problems; gathers facts in order to make ethical decisions.

Respect - Embraces an understanding of social norms; embraces all perspectives; shows regard for other's traditions, abilities and qualities.

Responsibility - Demonstrates professionalism; seeks out opportunities for professional development to better understand their role within the organization; works independently.

Discovery - Accepting and encouraging creativity and failure when it happens; fosters creativity in problem solving.

Excellence - High performing; sees excellence everywhere; takes initiative to make processes/procedures better.

Community - Makes outstanding contributions the university community both internally and across other units.
Staff Morale Award
Purpose
The purpose of this award is to recognize a Penn State University staff person who demonstrates enthusiasm and optimism in order to create a positive, inclusive, and supportive work environment for all. 
Criteria
Integrity - Leads with enthusiasm; fosters respectful & cooperative work climate; demonstrates accountability; makes ethical decisions.

Respect - Recognizes potential within others; values other's opinions; practices active listening.

Responsibility - Considered trustworthy by peers; acts in an honest, optimistic and ethical manner.

Discovery - Encourages people to speak up; encourage creativity. 

Excellence - Provides excellent customer service; provide support and guidance to those around them to help make work life better. 

Community - Works to create a culture that is safe and inclusive; gets people to coalesce around institutional goals.
Staff Leadership Award
Purpose
The purpose of this award is to recognize a Penn State University staff person who demonstrates excellence in leadership and serves as a positive role model for others.
Criteria
Respect - Focuses on the team; listens and learns from others around them; inspires performance; supports others around them.

Responsibility - Recognizes natural gifts in team members and works to develop them; works with others to own mistakes and problem solve; demonstrates professionalism.

Discovery - Encourages growth among others; creates an environment where failure is part of learning; exhibits resourcefulness.

Excellence - Seeks ways to improve methods; practices for the betterment of the unit/college/university; goes above and beyond the job duties to contribute.

Community - Establishes relationships both internally and across university units; serves as a mentor; serves on college/dept and/or University committee memberships or service. 
Eligibility
All full-time staff are eligible.

Anyone at the University (staff, faculty, and students) may submit a nomination, regardless of level. 

Every nomination is considered on its own merit and will be given equal consideration regardless of type or level of staff position held within the university.
Awards Purpose and Criteria
Nominators are asked to complete and submit a nomination form which may include up to 3 letters of support that must be uploaded at the time of submission. Candidates may be nominated for more than one award. However, they can only receive one award.
Honorees are recognized at an Award Ceremony hosted by President Bendapudi.
Image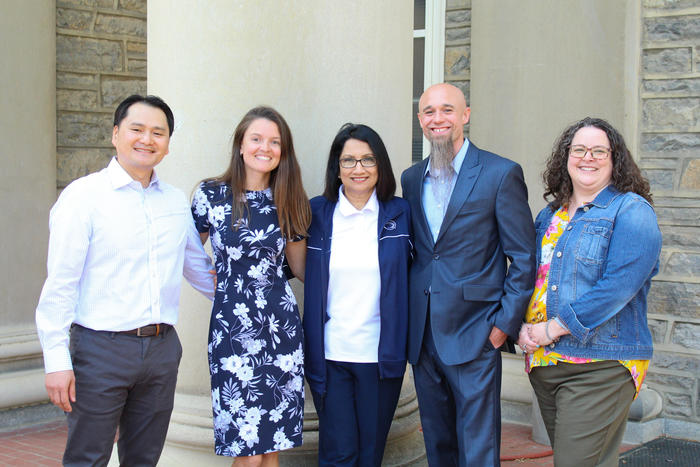 Past Honorees
2023 (News Article)

Staff Excellence Award
Matt Jones, Research Assistant, Huck Institutes of the Life Sciences
Staff Morale Award
Alexandria Kinder, Staff psychologist, Counseling and Psychological Services, University Park
Staff Leadership Award 
Yu Tai Chung, Director of information technology, Donald P. Bellisario College of Communications

2022 (News Article)

Staff Excellence Award
Sherri Gilliland, Graduate Program Staff Assistant, Psychology, College of the Liberal Arts 
Staff Morale Award
Maria Pilar M. Kim, Industry and Career Services Coordinator, School of Hospitality Management
Staff Leadership Award
Jane Pflaum, Administrative Support Coordinator, chancellor's office, Penn State York

2021 (News Article) 

Staff Excellence Award
Sonia Delaquito - Learning Center Coordinator, Penn State Berks
Staff Morale Award
Brosi Bradley - Labs & Field Technician, Department of Ecosystem Science & Management, College of Agricultural Sciences
Staff Leadership Award
Katina Posney - Administrative Support Coordinator, Department of Materials Science & Engineering, College of Earth & Mineral Sciences

2020 (News Article)

Staff Excellence Award
Deborah Tomazin - Humanities, College of Medicine, The Milton S. Hershey Medical Center
Staff Morale Award
Joan Miller - Division of Undergraduate Studies, Undergraduate Education, University Park
Staff Leadership Award
Kristy Hove - Institutional Planning, Lehigh Valley

2019 (News Article)

Staff Excellence Award
Hilleary Himes, Director of Advising, College of Earth and Mineral Sciences
Staff Morale Award
Thomas Kell, Laboratory Supervisor, Penn State Harrisburg
Staff Leadership Award
Jeremy Fisher, Administrative Support Coordinator, College of Arts and Architecture, School of Visual Arts

2018 (News Article)

Staff Excellence Award
Corinna H. Fisher, Constituent Programming and Event Officer, College Relations Office, College of Agricultural Sciences
Staff Morale Award
Kristy Bryan, Adviser, World Campus Academic Advising and Student Disability Services
Staff Leadership Award
Jamie Perryman, Administrative Support Coordinator, Stuckeman School

2017 (News Article) 

Maria Rosalba (Alba) Congiu
Senior Financial Analyst, The Huck Institutes of the Life Sciences
Cathy Holsing
Director, The Huck Institutes of Life Sciences & Director, Filippelli Institute for e-Education and Outreach
Jill Schulte
Research Project Manager/Team Lead for the Technical Assistance team, Clearinghouse for Military Family Readiness at Penn State

2016 (News Article)

Karen Brewster, Executive Assistant to the Dean of the College of Information Sciences and Technology
Stephanie Chastain, Academic Adviser and International Programs Coordinator, Smeal College of Business
Ann Lalik, Director and Arts Coordinator, Penn State Lehigh Valley
Mary Runco, Administrative Support Assistant, College of Nursing, Penn State Worthington Scranton
Deborah S. Sam, Administrative Support Assistant, Architectural Engineering
Allison Shauger, Client Service Manager, World Campus